Exterior Painting in Oak Ridge North, Texas
Is it time to paint the exterior of your Oak Ridge North house? Is staining that neglected deck a "must" this season? Call Oak Ridge North's painting contractor of choice when it comes to quality exterior painting done right: Palmer Pro. We offer quality exterior painting services and pricing that won't break the bank. What's more, our exterior painting crews have the skills, expertise and passion to paint just about any exterior surface you can come up with. From decks to shutters to gazebos and siding you need it painted, we'll get it done!
---
Call for Free Estimate
---
Oak Ridge North, Texas's Exterior Painting Leader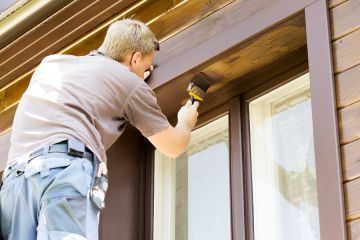 With over 4 years in as an Oak Ridge North painting business, Palmer Pro has been asked to paint lots of different exterior surfaces; and we haven't yet seen a surface that we couldn't paint! Just a few of the exterior painting services we provide include:
Houses
Fences and Gates
Decks and Porches
Gazebos
Light Posts and Railings
Shutters, Trim and Fascia
Commercial Buildings
Exemplary Oak Ridge North Exterior Painting Services
Palmer Pro has earned a solid reputation as a reliable Oak Ridge North painting contractor who completes every painting job to each customers highest satisfaction. Work is never rushed. Instead, we take the time to completely prep all exterior surfaces, cover landscaping and furniture and repair, sand and caulk before the first drop of paint reaches the surface. Once the painting your exterior begins, we'll use top quality paint that will keep the surface looking great for years to come. When you call Palmer Pro for your next exterior painting job, you won't want to call different painter again!
House Painting in Oak Ridge North
The most commonly frequently painted exterior for Palmer Pro painters is houses. Painting exterior homes in Oak Ridge North is our favorite work. Want to change the color of your house? Just ask. We can bring along color samples and help you select complimentary colors for your house, trim, shutters and doors. You'll delight in your newly painted Oak Ridge North house as much as we'll delight in painting it! Call (832) 410-1868 today for a free, reasonably priced quote.
Fence, Deck and Gate Staining in Oak Ridge North
Like painting, staining is commonly used to cover and protect exterior wood surfaces. Stains quality and choices have come a long way through the years. They they are much more durable than they have been in years past. In addition, there is a vast selection of hues and levels of opacity to choose from. Tell us the look you're going for, and Palmer Pro's Oak Ridge North deck staining crew can help you achieve it!
---
Call for FREE Exterior Painting Quote
---
WHAT CUSTOMERS ARE SAYING:
5★★★★★ - "Another great job by Mical. I reached out to him when I injured myself painting my media room to do the ceiling and trim. All I can see going forward is I will call Mical rather than doing anything myself. Mical is meticulous in his work, professional and reasonable in price. We are looking to Mical in the near future to paint our bedrooms and more! Thanks again!"

Anonymous

2019-09-09

5★★★★★ - "I needed to get my house sold quick. Was told that I needed to repaint to attack more buyers as a suggestion to get more attraction. Hired Palmer Pro, and they did an amazing job...quick, professional, neat, and affordable. My house was sold in 2 weeks in buyers market and I owe a lot to Micah and his team in doing a quick amazing job.Thank you."

Whitney M, Interior Painting in Spring, TX

2019-05-02

5★★★★★ - "Palmer Pro did a fantastic job repainting my home! Their attention to detail and professionalism are second to none in the industry. I greatly appreciated their honest approach to product recommendations and pricing and am so glad I finally found trustworthy contractors to work with now and in the future. I highly recommend them to anyone needing help with their projects!"

Mandi F., House Painting in Houston, TX

2019-01-31

5★★★★★ - "Micah did an AMAZING job with our paint job. He got our entire room done on short notice for a great price and also gave us some pointers for rooms we needed to paint on our own. Will definitely use again. Highly recommend."

Mandy H., Interior Painting in Houston, TX

2018-12-20

5★★★★★ - "These guys were awesome, very professional. They made sure everything was exactly how my wife and I wanted it and even asked us to point out anything that they might have missed before they left. As a bonus it was nice that we could have a conversation with these guys and not feel awkward in our home while they were there for 3 days."

Bryan B., Interior Painting in Magnolia, TX

2018-12-20

5★★★★★ - "This gentleman is professional and very attentive to detail. He does not rush and takes his time. I have an older house with the oak railings, he hand sanded them, restained, and put two coats of polyurethane on them. An unbelievable job!! I would definitely hire him again. See the before and after pictures I have attached of his work, as you will see he takes great pride in his work and treats your home project as if it was in his home."

Jeff S., House Painting in Houston, TX

2018-12-20

5★★★★★ - "Thanks to these two fabulous hard working young brothers we got our interior house painted in one day. They were on time, efficient, kind and very professional. We are so pleased the job completed for a great price! Thanks so much for all you do we will definitely be using you again and tell all our friends! Thanks for a fabulous job!!!"

John O., Interior Painting in The Woodlands, TX

2018-12-20

5★★★★★ - "Micah was great! Very responsive and an excellent value for the work he provided. I felt bad because it took him a little longer than he anticipated so I gave him some extra money for his time! I will hire him again for projects at my home and business!!"

Joshua A., Interior Painting in Magnolia, TX

2018-12-13

5★★★★★ - "Micah did a great job on our guest bathroom. Will definitely use him again for my future painting needs. Called him earlier in the week and he was able to work around my work schedule to come out, today (Saturday), provide a very reasonable estimate and also do the work! Highly recommend."

Russell K., Interior Painting in Cypress, TX

2018-12-13

5★★★★★ - "We asked for an accent wall to be painted, responded immediately. Showed up the following day, provided a quote that was fair for what we wanted and painted the wall the same day."

Leslie B., Interior Painting in Tomball, TX

2018-12-13

5★★★★★ - "Great work, timely and thorough! Second time for hire and was pleased on both occasions!"

Sonya S., Interior Painting in The Woodlands, TX

2018-12-13

5★★★★★ - "Micah was on time, completed the job in the amount of time specified and did a fantastic job. Also when he recommends a specific brand of paint...LISTEN. The brand he recommended was awesome and so much better than what we used to use."

Marc M., Interior Painting in Houston, TX

2018-12-13

5★★★★★ - "Micah is very hard working and has an eye for detail. He did a great job with a tricky red paint. I will definitely be using Palmer Pro again!"

Ryan F., Interior Painting in Houston, TX

2018-12-06

5★★★★★ - "Micah and his brother arrived to work on time and worked diligently all day only taking a short break for lunch. They painted my kitchen and breakfast area ceiling, walls, trim and doors. We were very happy with their work and will definitely use their services again. Did I mention also that their prices are very reasonable."

Don D., Interior Painting in Houston, TX

2018-12-06

5★★★★★ - "Micah is a good painter. Takes pride in his work. On time and gets the job done. Will be using him for more projects in our home."

Rebecca B., Interior Painting in Houston, TX

2018-12-06

5★★★★★ - "He was very pleasant and respectful while in my house, very quiet and careful not to make a lot of noise. Got the job done in a reasonable amount of time. Really no complaints."

Ryan C., Interior Painting in Houston, TX

2018-12-06

5★★★★★ - "Did a great job. Reasonably priced. Showed up on time. Would hire again."

Amanda R., Interior Painting in Houston, TX

2018-12-06

5★★★★★ - "Palmer Pro was so professional, affordable & treated my home with the utmost of care. He even walked my dog for me! Oh, painted my entire downstairs flawlessly. Highly recommend Micah with Palmer Pro"

Sheryl M. in Conroe, TX

2018-12-03

5★★★★★ - "Palmer Pro did a fantastic job repainting my home! Their attention to detail and professionalism are second to none in the industry. I greatly appreciated their honest approach to product recommendations and pricing and am so glad I finally found trustworthy contractors to work with now and in the future. I highly recommend them to anyone needing help with their projects!"

Amanda Foutch in Houston, TX

2018-12-03

5★★★★★ - "Great finish work, conscientious, fast and always on time! Micah did a great job!"

Anonymous

2018-12-03

5★★★★★ - "Micah and Brandon's work was spectacular! Not only were they reasonably priced, but they were precise and very detailed in their work. I could not be more pleased with my experience and will most certainly hire them for future home projects! In addition to house paint, they pressure washed my back patio, driveway and entry walk-way - another amazing turn-out! Thanks again, guys!"

Tess H., House Painting in Houston, TX

2018-10-25

5★★★★★ - "Very satisfied!"

Sandra M., Interior Painting in The Woodlands, TX

2018-10-25

5★★★★★ - "Would definitely recommend"

Anna M., Interior Painting in Houston, TX

2018-10-25

5★★★★★ - "he was great"

John T, Cabinet Painting in Houston, TX

2018-10-25

5★★★★★ - "I needed my interior house of 1904 square feet painted. Palmer Pro did an amazing job. They were efficient and kept my baseboards clean. Highly recommended if you are on a tight budget and you want it done right the first time. They even recommend colors and texture to my kitchen that looked fantastic. Called them back to help repaint when I was ready to sell my house. Made such an impact that my house sold in less than 3 weeks! Thanks, Palmer Pro!"

Whitney M., Interior Painting in Houston, TX

2018-10-25

5★★★★★ - "Micah and Brandon Palmer were very professional and did such an amazing job. They were polite, hardworking, and finished everything within the projected timeline, which I really appreciated. I wouldn't trust anyone else with my home improvement needs!"

Lindy M., Interior Painting in Houston, TX

2018-10-25
---
Call for FREE Exterior Painting Quote
---